The EZ Sander was designed and built for slag / dross grinding, primary burr removal, straight grain finishing for wood surfaces and more. A perfect pairing for a laser, plasma table, water-jet, stamping and punching operations. Make you jobs simpler and more cost effective with EZ Sander.
Specifications for EZ SANDER
Maximum width stock: 37"
Minimum part length: 10"
Machine opening: 5" Feed speed: 5 - 25 FPM
Belt size: 37" x 60" Compressed air requirements: 4 CFM @ 90 psi
Dust collection 6" port: 950 CFM
Motor: 15 HP @ 440v / Three Phase – approximate full load amps: 21
Motor: 15 HP @ 220v / Three Phase – approximate full load amps: 42
Option for Motor: 10 HP @ 230 single phase - approximate full load amps: 32
Option for Motor: 10 HP @ 208 single phase - approximate full load amps: 36
Approximate shipping weight: 2,250 lbs.
Shipping dimensions: 57" W x 46" L x 80" T
Additional Sander Features 37" wide part capacity
The EZ SANDER is built to process parts up to 37" wide with the ability to hold very tight tolerance (+/-.003) side to side when set up properly. Parts that are longer in length may need to be supported at infeed and outfeed when being processed.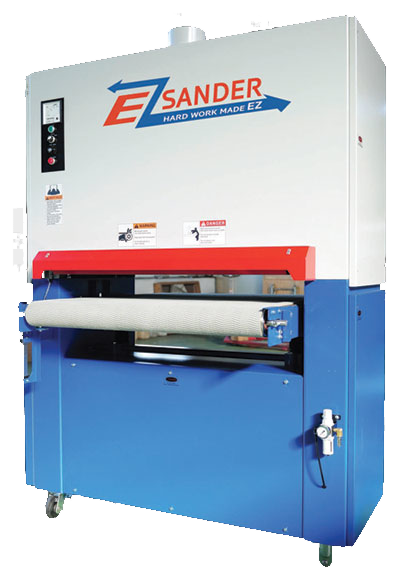 6" Diameter Cam Adjustable Contact Drum
Sanding Head with dial indicator
The sanding head is a 6" cam adjustable contact drum with a dial indicator to adjust your drum when running thicker or thinner abrasive belts. This allows the operator to easily raise or lower the drum to adjust for varying abrasive belt thickness to keep proper hold down pressure on part being processed. When changing from one grit abrasive belt to another, this will help to ensure the contact drum position is positioned for the correct sanding pressure as well as having the correct pinch roll pressure without having to adjust each of the four pinch rolls which allows for a fast set up of machine with accuracy on contact drum position down to .001" on dial indicator readout.
Variable Speed Conveyor at 5-25 fpm
The conveyor belt speed is set to run at 5-25 fpm and is controlled at the main control panel by simply turning the dial to your desired speed within the 5-25 fpm range.
0-5"conveyor bed opening with Motorized Lift
The conveyor table/bed opening has a 0" to 5" opening allowing the operator to sand some parts as thick as 5" and

Electronic Abrasive Belt Tracking System
The EZ SANDER is equipped with a state of the art electronic tracking system for the abrasive belt. With an electronic beam of light and a pneumatic cylinder working together in an enclosed system the abrasive belt is tracked automatically to allow you to prevent possible streaking caused by uneven mineral wear on the abrasive belt.
Abrasive Belt loading door with safety interlock
The EZ SANDER has been built with several safety features with one being the interlock on the abrasive belt loading door which prevents the operator from continuing to run the abrasive belt motor when the abrasive belt loading door is open while it is running. If the door is opened while the machine is running the machine automatically shuts down the machine and the disc brake on the main motor is engaged to stop the belt in a few seconds.
Motorized Lift with Digital Thickness Readout for conveyor bed settings
The EZ SANDER has motorized lift thickness opening to open or close the thickness opening simple by turning a toggle switch. A digital readout on the control panel is used to make setting the height of the conveyor bed to the desired thickness. The digital readout shows the bed opening down to the .001" or .01mm dependent on whether you are using metric or standard for the readout.
Centrally located control panel with motor load meter and hour meter
Centrally located control panel lets the operator easily reach and view the necessary items from the front of the machine while loading parts at the infeed area of the machine.
Over-Thick Shut-off system on infeed
Over-thick safety door at located above the infeed area of the machine is designed to help prevent the feeding of over-thick or double stacked parts from being fed into the machine which will help keep the machine and operator from being harmed or injured. If a part that is too thick is fed into the machine by mistake should engage the door safety switch at the infeed of the machine which is designed to shut down the machine which will help prevent any harm or damage to the operator and or the machine.
Air Caliper Disc Brake
Heavy duty air caliper disc braking system for stopping sanding head within 4 to 5 seconds when activated by the machine's safety interlock system.
Safety Micro Switches to prevent mis-tracked belts
Safety Micro Switches are positioned on both inboard and outboard sides of the abrasive belt to keep the belt from tracking too far. These limit switches have ceramic sleeves on them to help prevent any spark if the abrasive belt should track too far and engage these micro limit switches. If the switch is activated by the abrasive belt mis-tracking, the heavy duty caliper brake is activated and the power is shut down which brings the belt to a stop within a few seconds.

Pricing for Apex EZ SANDER
Model # EZ3760M $13,995
Shipping Freight: TBD Overall Shipping Dimensions: 57" x 46" x 80" Weight: approx. 2,250 lbs.
Optional Wet Dust Collector $4,995
The Apex model PWDC-5HP wet dust collector is designed to filter the air by removing particulates from the air being exhausted into a wet chamber reducing the possibility of sparks catching fire in certain applications.
FEATURES
• 5 HP TEFC main motor provides 1250 CFM with vertical discharge at the top
• Standard steel construction with marine powder paint to prevent rust
• Stainless steel blower mounted directly to the main motor
• Self-contained IP-54 electrical enclosure with Start and Stop buttons and overload protection
• Front access door for easy filling of water and washing out of material
• Sight gauge to observe water level & Large drain and manual valve to empty unit
Customer Responsibilities:
Uncrating and positioning of equipment; Connection of any electrical wiring and/or compressed air to the equipment; All local, state or federal approvals, licenses or permits; Proper maintenance of machine as recommended by manufacturer; Observance of safety precautions contained in the operator's manual.
Warranty:
The Seller warrants to Buyer that the equipment manufactured by the Seller shall be free from defects of materials or workmanship under normal use and maintenance for a period of twelve (12) months from the date of completed installation set-up and training. The liability of Seller under the warranty shall be limited to the repair or replacement, at Seller's option, of any part or component which may prove defective under normal use, service, and maintenance after Seller, at is sole discretion, and determines the same to be defective. Disabling any safety feature(s) or modifying the sander will void machine warranty.